Engear is an universal indicator of the engaged gear with integrated Shift Light.
A main feature, of fundamental value, is the gear update speed that is the real problem of the most common devices that reach a delay sometimes higher than a second.

Moreover, keeping compact proportions, is fitted with a big dimensions display (22mm. height) allowing the inmediate visibility also due to the automatic brightness regulation sensor.
As option are made available specific Plug Kits, for the most common bikes, that allow the quick connection to the original loom without cutting or welding any wire.
The new series of Engear comes with an improved software able to alert the user about the lack of the needed signals caused by a possible wrong connection.
What makes Engear unique is, unlike other products on the market, you can buy the Engear as universal indicator and add the specific Plug Kit for your bike, this means you can change the bike and move your Engear to a different model just replacing the Plug Kit.
If for your bike is not available any Plug Kit you can install the same Engear following the connection table supplied with it.
ATTENTION: The Plug Kits can be connected only to last generation Engears supplied with a white plastic connector at the end of the cable.
Specifications:
BIG DISPLAY WITH AUTOMATIC DIMMER.
ULTRABRIGHT BLUE ADJUSTABLE SHIFT LIGHT.
UNIVERSAL INSTALLATION ON VEHICLES WITH ELECTRONIC TACHO AND SPEED SIGNALS.
TILL 9 GEARS SUPPORTED.
WATER RESISTANT.
DESTINATION: CARS - MOTORBIKES.
DIMENSIONS: width 29 mm. - height 41 mm. - dept 20 mm.
Some Optional Accessories:
PLUG KIT ENGEAR FOR THE MOST COMMON BIKES
Specific optional loom to connect Engear directly to the bike loom.
Using this Plug&Play loom no cutting or welding operation will be required to install Engear.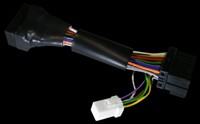 For CBR600 from 2005 and CBR1000 from 2005 to 2007 (Code: EPKCBR0507)
For Yamaha R6 from 2004 and R1 from 2004 to 2008 (Code: EPKR604R104)
For CBR1000 from 2008 to 2012  (Code: EPKCBR08)
Other models coming soon....  (Code: )